Hugh Howey Announces 'Wool' Book Tour Dates
Fans wanting to meet Hugh Howey and get a book signed can now make plans to attend one of his book signings in March. Hugh will be traveling to the following cities for his Wool book tour:
Houston, TX
Kansas City, MO
Chicago, IL
Denver, CO
Los Angeles, CA
San Francisco, CA
Seattle, WA
Charlottesville, VA
Charleston, SC
Miami, FL
To find out locations and specific dates, head over to Hugh's event calendar.
US Release Date for 'Wool' Set for March 12, 2013
The release date for Wool's hardcover and paperback publication with Simon & Schuster is approximately March 12, 2013, and the book is available for pre-order from Amazon (hardcover $15.77, paperback $9.59).
Will you be getting yourself a hard copy to hold in your hands? I know I will be!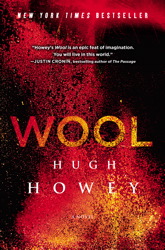 'Wool' in UK Bookstores Today
Wool fans in the UK who have been waiting for the chance to get a hard copy of Hugh Howey's Omnibus edition can now find them in stores or online at Amazon.co.uk.