GIVEAWAY: Hugh Howey's Fallout Shelter USB Drives
Hey Woolites! Thanks to Hugh, who is as always an amazingly nice guy, has donated two of his Fallout Shelter USB drives to The Down Deep to give away. The drives include the omnibus editions of Wool and Shift, as well as Dust.
To enter, all you have to do is comment and tell us how you first found out about the Silo saga. After that, you can do social media entries. You MUST log in all entries in the Rafflecopter widget at the bottom after they're completed or they will not count! (including the comment entries)
You can take a look at them in Hugh's video below.
You can take a look at them in Hugh's video below.
GIVEAWAY: The Down Deep Pin Buttons/Magnets
All right people, my button making machine has arrived and I've started making buttons and magnets for The Down Deep! If you're psyched to have one I've got three buttons and three magnets up for grabs!
To enter, just post a comment here answering this question: Who in the silo would you give a gift to for Christmas and what would it be?
After you comment, use the Rafflecopter widget below. This should unlock the ability to enter up to three more times!
Giveaway: UK Hardback Edition of 'Wool' Signed by Hugh Howey
When I emailed Hugh Howey to ask for an interview, he was so nice that he went a bit further and offered The Down Deep an autographed UK hardback for us to give away! Yes, I admit to being completely jealous of one of you lucky readers.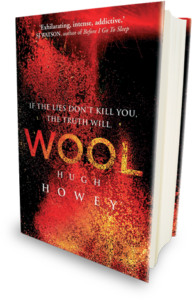 If you missed it, don't miss our interview with him in which he talks about the Wool series and what inspired him.
For the giveaway, we've got five possible entries for you. Best of luck! Giveaway ends 11/21/12.