Fox Hires 'Guardians of the Galaxy' Screenwriter for 'Wool' Re-Write
Fans of Wool will be happy to hear that there's some news on the movie front. According to The Wrap, 20th Century Fox has brought Guardians of the Galaxy screenwriter Nicole Perlman on board to re-write the script for the Wool movie, which was originally written by J. Blakeson.
Perlman is rewriting the script by J Blakeson ("The 5th Wave") before the producers take the project out to directors, as no one is attached at this time.

"Wool" was one of Hollywood's hottest projects when 20th Century Fox acquired the property in a heated bidding war back in 2012. The self-published e-book became a word-of-mouth sensation and sold more than 140,000 copies in under six months.
This is pretty fantastic news, and here's hoping that this will bring Wool that much closer to a green light!
Is 'Wool' Coming to Theaters in 2016?
Yesterday, Collider reported that movie studio Fox had announced a line-up of upcoming films, including the following:
An unspecified Ridley Scott feature is dated for March 4, 2016.
Collider points out that Ridley Scott is tied to quite a few films and pitches their own guess that the film in question is Prometheus 2, and while little has surfaced lately regarding the status of the film, the announcement doesn't specify whether he's directing, so it's still possible that this is regarding the Wool movie.
The last we'd heard, director J. Blakeson was set to direct Wool.
What do you think?
'Wool' Author Hugh Howey Inks Film Contract at WorldCon
Author Hugh Howey posted a photo on Facebook of a signed and notarized contract for a movie deal for his set of short stories 'Wool', a deal which was finalized at WorldCon.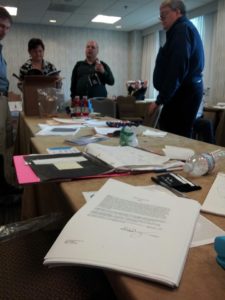 So what exactly does this mean for a 'Wool" movie? Can fans expect to see posters of a 2014 or 2015 movie coming soon? It's really hard to say and depends a lot on all the right cards falling into place. With book adaptations being extremely hot these days, it's always possible this could get fast tracked into production. Us Woolites will just have to wait and see what happens next!