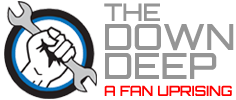 About a month ago, I finished a couple of young adult books and found myself just fed up with the genre and the lack of quality in the writing so many of them have now.
Sick of teen characters and their slow fictional awakenings, I went in search of something based on adults. I browsed the Science Fiction & Fantasy list on Amazon and naturally, all of the Game of Thrones books were in the top ten. Then there was this cheap e-book called Wool
 by Hugh Howey.
It didn't sound like sci-fi. What kind of title is 'Wool' anyway? But it had an astonishing 400+ 5-star ratings with the first displayed review hailing it as a sure-fire sci fi classic in the making. At such a bargain price, I figured I didn't have much to lose.
Right from the first page, it didn't sound all that interesting, but the quality of writing was immediately apparent and it kept me going along with the desire to figure out what was going on. You see, the Amazon synopsis really wasn't much to go on. I went in basically blind.
Originally published as a single short story, self-published author Hugh Howey then went on to write four more after he got rave reviews from his fans. All five shorts now comprise one book called Wool Omnibus (which means "a volume containing several novels or other items previously published separately."). I finished Wool 1 very quickly and was so hooked. I was so refreshed. This was exactly the cure I'd been looking for.
I told my husband, who is a sci-fi fan and the harshest critic I know, that he had to read it. Curious about my enthusiasm and bored to boot, he read it in about an hour. He gave it 5 out of 5 stars and agreed that it would go on to become a science fiction classic. We then went on reading the book, butting heads over who had dibs on my Kindle.
Wool 1 still remains the strongest of the five stories to both of us, but overall the book was just fantastic. Hugh Howey weaves characters so real that you can't help but feel like you know them intimately. You love them. You feel for them. You want them to survive.
Last week, the news came out that Wool had been optioned for a movie, purchased by Fox and holding the interest of Ridley Scott himself. I took this as a sign that it was time for a Wool fansite.
I run quite a few fansites already and it's something I really, truly enjoy so I figured why not. I knew that Wool would eventually make it big because something that good can't stay a secret for long, which is why I bought an autographed copy of Wool 6, thinking that it'd be harder to get something like that later down the road. The book now has almost 700 5-star ratings on Amazon.
The fact that Hugh Howey has a very active blog, seems like such an ordinary guy, and is truly a self-made man makes a fansite seem even more justified. He's truly talented and deserves a large fanbase, which I hope to help build with this site. Taking from what the residents of the silo call the lower third of the silo, The Down Deep is where I'll put my attempts to build an uprising for this truly phenomenal book and its talented author.